What about Greek dishes?
Why Greek food?
Why is there Greek food in Okinawa?
Of course. Okinawa has many local foods, such as "Okinawa-soba", "Taco rice" and "Go-Ya Chan-pulu" etc.
But I think that this Greek restaurant is one of the wonderful experiences in Okinawa.
Go to small island by car
The restaurant is in "Ikei" island.
"Ikei" island is east island in Okinawa. The island connects to Okinawa island with road bridge. So, you don't need ship, you can drive there from Okinawa island.
The restaurant is in Ikei island

"Ikei-jima" : "Ikei" island
Go through small residential area and the Greek restaurant will appear.
The appearance of restaurant is very unique.
Drive country road in Okinawa

The restaurant is "Container"!
It is "container"!
The container, which ships convey something on the sea.
The container was remodeled. There were windows, doors, and inside of container was decorated like a house.
In the restaurant, there were about 4 tables.
At that time, all customers except us were non-japanese.
The Container will apperar.

The container was remodeled to restaurant.

In the restaurant.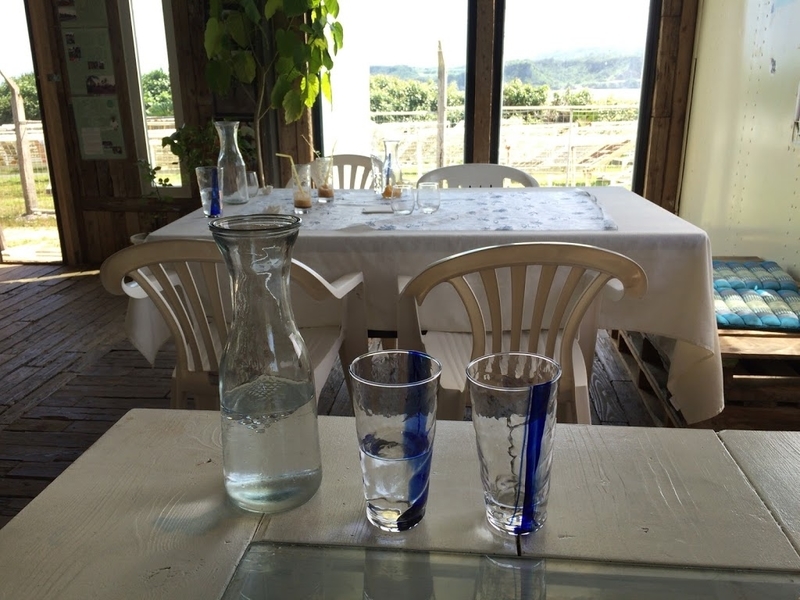 Prix-fixe Lunch Style
Prix-fixe menu only. No a la carte dish. Furthermore, dinner is not available. Lunch only.
When you seat, the greek dishes will be served one after another.
Delicious Greek dishes
I haven't really eaten the greek dishes before, but it was delicious.
I felt that the greek dishes was healthy and enjoyable.
One of Lunch

Home like restaurant 
The owner and cook of the Greek restaurant is american woman. She has lived in Greece for several years. She speaks not only english but Japanese.
She will give a warm welcome. The feeling that was invited to the home.
It is pretty wonderful experience!
about Little Greek Kitchen
| | |
| --- | --- |
| Address | Japan, 29 Yonashiroikei, Uruma, Okinawa Prefecture 904-2421 |
| Open | Wed - Sun |